Despite a year full of challenges, Genevieve has pushed full steam ahead, continuing on her mission to create music that matters. Her unusual career trajectory and life experiences lend a wisdom and thoughtfulness that couples nicely with her quirky sense of humor and allows her to connect with audiences of all ages worldwide. And connection is what she's all about. Whether as a singer/songwriter/producer, or as an author, or as a wildlife photographer, or as an educator, she is always striving to find ways to connect: connect people, connect ideas, and connect with the big, beautiful world around us. She's an old soul who somehow never lost that childlike playfulness and sense of wonder, and it comes across in everything she does. 
You could say she is an adult-contemporary artist, with music incorporating elements from multiple genres - folk and country storyteller traditions, blues and jazz improvisations, pop hookiness. And, with a voice blessed with impressive dynamics and range, she shifts seamlessly between sultry, Scotch-soaked chanteuse to pure Disney princess. It's not surprising that her music and her voice have found homes in a variety of mediums, from TV/film and commercials to video games and educational programs.
Genevieve spend nearly a decade touring the country before she felt burnout approaching, so she took a sharp left and disappeared into the South African bush. There, she used her other skills as a writer and photographer to pursue another passion in life: wildlife conservation. For several years, she ran around after animals, documenting them for local and international NGOs and managing to not get eaten by anything (though she did get bitten by a cheetah). And while she maintained a tether to the musical world through a connection in Cape Town (where she did session work when she'd come into town), she still felt a musical void. She did get the opportunity to sing a Zulu lullaby for a Pampers commercial, though, so that's something.
While in South Africa, her audience often consisted of little more than meerkats, lions, and rhinos. At one point, she taught music classes to children on one of the reserves she worked on, few of whom spoke any English, which was possibly more challenging than not getting eaten by a lion. But while it was all good for a story, it was not for a career. The musical beast was starving and needed feeding, which meant stepping out of the wilds of Africa and back into the, well, wilds of music. So she returned to the US and has been steadily working in the studio and on stages (and now from her own living room) ever since. Her third full-length album will be available this fall.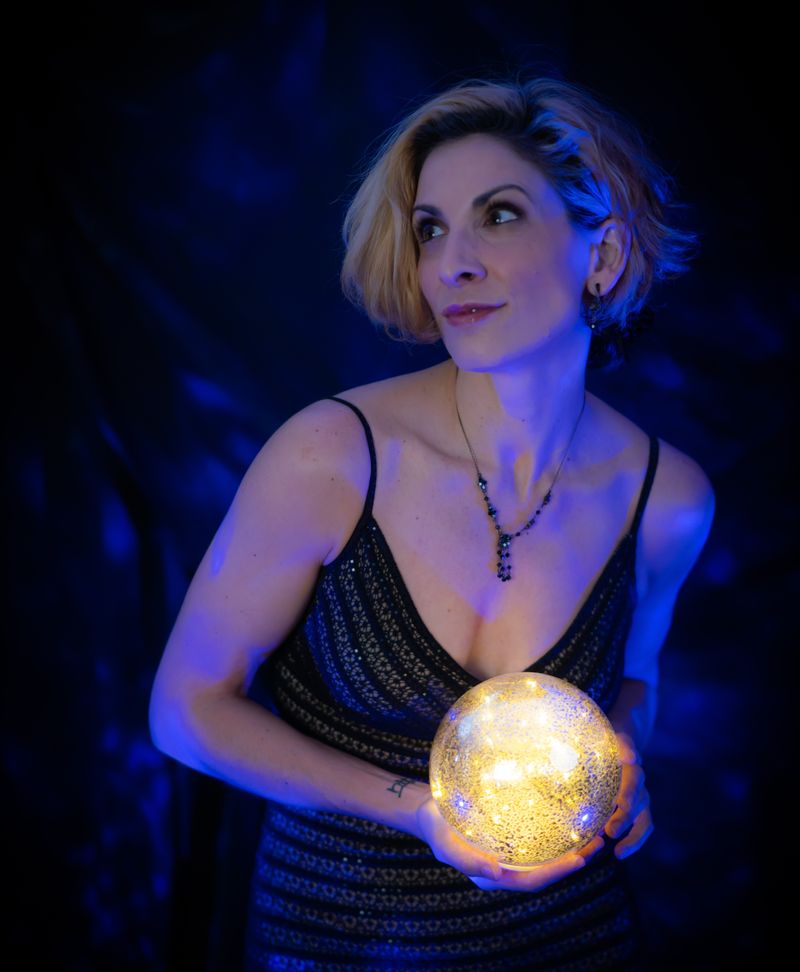 The Back Backstory
The youngest of five kids, you spent your early childhood watching, listening, and learning. You learn that yelling doesn't always get you heard, and often the softest whisper works best. You incorporate that into your performing toolkit. You learn that a tough skin and a strong belief in yourself is mandatory in dealing with the fact that even though you might be right, people won't always listen to you. Except when you sit down behind the piano. You file that away as well. 
Growing up at the Jersey shore, you believe that Springsteen is king and Bon Jovi is his court. It's the eighties, so New Order, Pat Benatar, the Beastie Boys, and Duran Duran are all part of the kingdom. You believe in fairy tales because that's what Uncle Walt teaches, and Jem because she's truly outrageous and because you secretly want to be a rockstar, but your family won't let you run off alone to NYC anytime soon. You also can't find any recruits to run away with you.
 
You hit high school when the bubble-gum pop of a few years ago doesn't fit the tragedy and turmoil in your life, and so is replaced by Nirvana, Alice in Chains, the Smiths, and the Indigo Girls (because you need someone who sounds a little like you). And you secretly listen to Whitney because, like you, she belts. You're smart, athletic, artistic, and good-looking … making you more the target of abuse than the source of admiration, so high school isn't all that fun. Your attributes become your curse. Your best friend is your piano, a relationship you've nurtured since the day taught yourself to play "Hey Jude" for your mom.
 
You escape to college. Although you've been on various stages since the age of four, your dream of being an entertainer has been beaten out of you by lack of self-esteem and too much pressure to "get a real job." Here, you are somewhat safe to pursue this dream and build up what you've lost. You become a marquee singer in an a cappella group perform at the Kennedy Center and the White House. You start to think maybe you can really do this professionally. 
 
Your family and friends still think being a musician is nice, but not a reality, and, your history being what it is, you don't believe in yourself enough to argue, so you use your writing skills to land a job in advertising – and last six months. You return to music, where you're getting a lot of good gigs that don't pay. You enroll in Juilliard, only to run out of money and once more find yourself back in the business world. This time, it's in public relations. Like advertising, it isn't a good fit. Despite the obvious cliché, you pack up your life and head to LA, where you know no one.
 
For several months, you land gigs and write. You pound away on the Casio keyboard you've had since 11, and finally get into the songwriting groove. In six months, you have about thirty songs. The one thing they all have in common (besides the fact that you wrote them) is that they are all mini-movies about people trying to survive this little thing called life. Which becomes the title of the first CD. 
 
You use your PR skills to book yourself tours, sing the National Anthem at some MLB games, win a few awards and plenty of fans, record your second CD, head out on tour again (at one point playing over 200 dates a year), and then decide you need a major change before you burn out. You pack up your life and move to the middle of the bush in South Africa to work in conservation. Your music gets used to promote causes, you write new songs to raise money for NGOs, and you perform to audiences that include endangered wildlife. But you feel your message needs to reach a broader audience, and you miss performing full time. So you pack up again and return to the States. And now, here you are, ready to take on the world again, this time with a truly unique story to tell and a powerful reason to tell it.
Read all about Gen's life among the wild things in South Africa